President's Corner – Primary Election Recap, CLSA Elects New Board Officers & Board Member, CLSA Connects with Mayor-elect London Breed to Celebrate PRIDE in San Francisco, CLSA Makes Strong Showing at BIO 2018, CLSI Releases 2018 Workforce Trends Report, 6 Graduating Companies Celebrated at FAST Closing Celebration, Upcoming Events
By: Sara Radcliffe
CLSA President & CEO
June 27, 2018 
June Primary Election Recap
Behind much of CLSA's advocacy success in Washington D.C., Sacramento, and locally, is the time and attention we devote to educating policymakers on the fundamentals of our state's biomedical sector. This groundwork establishes CLSA as a trusted voice to more effectively argue the pros and cons of specific legislative and policy proposals. CLSA is keeping a careful eye on the midterm elections so that we can be best positioned to continue our decades-long legacy of partnership and engagement with elected officials to ensure the best outcomes for our state's vibrant life sciences ecosystem.  Following the June 6th California Primary Election, our Government Relations Team prepared detailed information on specific outcomes that stand to potentially positively or negatively impact the life sciences sector – these detailed summaries are available here for your reference and convenience: Federal election update, State election update and local election update.
CLSA Elects New Board Chair, Vice Chair and Adds New Board Member

I am pleased to announce CLSA's new Board Chair and the addition of a new member of our Board of Directors. William J. Newell, Chief Executive Officer of Sutro Biopharma, Inc., transitioned from Vice Chair to Chair of the Board.
Jared L. Watkin, Senior Vice President, Diabetes Care, Abbott, has joined the Board of Directors. In addition, Melinda Richter, Global Head, Johnson & Johnson Innovation, JLABS, formerly CLSA's Treasurer, was appointed as the new Vice Chair of the organization. The leadership and experience of these members will further our collaboration with officials in Sacramento and Congress to enhance the strength and growth of the state's life sciences economy. Click here to learn more.
CLSA Makes a Strong Showing at BIO 2018 in Boston
The 25th Anniversary of the BIO's International Convention took place in Boston, MA from June 4-7, 2018.  In addition to the Convention breaking the Guinness Book of World's Records for the most partnering meetings (350,000+), the meeting was an exciting opportunity for BioTech companies, entrepreneurs, investors and development organizations to come together and learn about the breakthroughs in medical innovation.  
CLSA and its partners in California hosted the California Pavilion to showcase California's economic powerhouse – the life science cluster across the Golden State.  CLSA would like to thank Alden, Accelera Canada, Lab Fellows, South San Francisco, Larta Institute, HUB, CLSI and UC San Diego for sponsoring the event.
CLSA Connects with Mayor-elect London Breed to Celebrate PRIDE in San Francisco
CLSA gathered at a Pride celebration on June 24th in downtown San Francisco as CLSA sponsored the Alice B. Toklas Pride Breakfast where U.S. Senator Kamala Harris gave a keynote address.
CLSA connected with San Francisco Mayor-elect London Breed, candidates for the supervisorial district representing Mission Bay, and many other local and state elected officials who were in attendance. Our organization is strongly supportive of efforts to promote diversity and inclusion in the life sciences sector and across California communities and was proud to participate in this important event.
CLSI Releases 2018 California Workforce Trends Report
Our affiliate, the California Life Sciences Institute (CLSI) released the 2018 Talent Integration: Workforce Trends in the California Life Sciences Industry report at the BIO International Convention in Boston earlier this month. This biennial report, which CLSI produces with the Biocom Institute, highlights the most pressing talent needs of California's life sciences industry and is a valuable resource for legislators, academic institutions, and others who want to ensure that California's talent pipeline for the industry remains strong.  Download the report here or learn more here.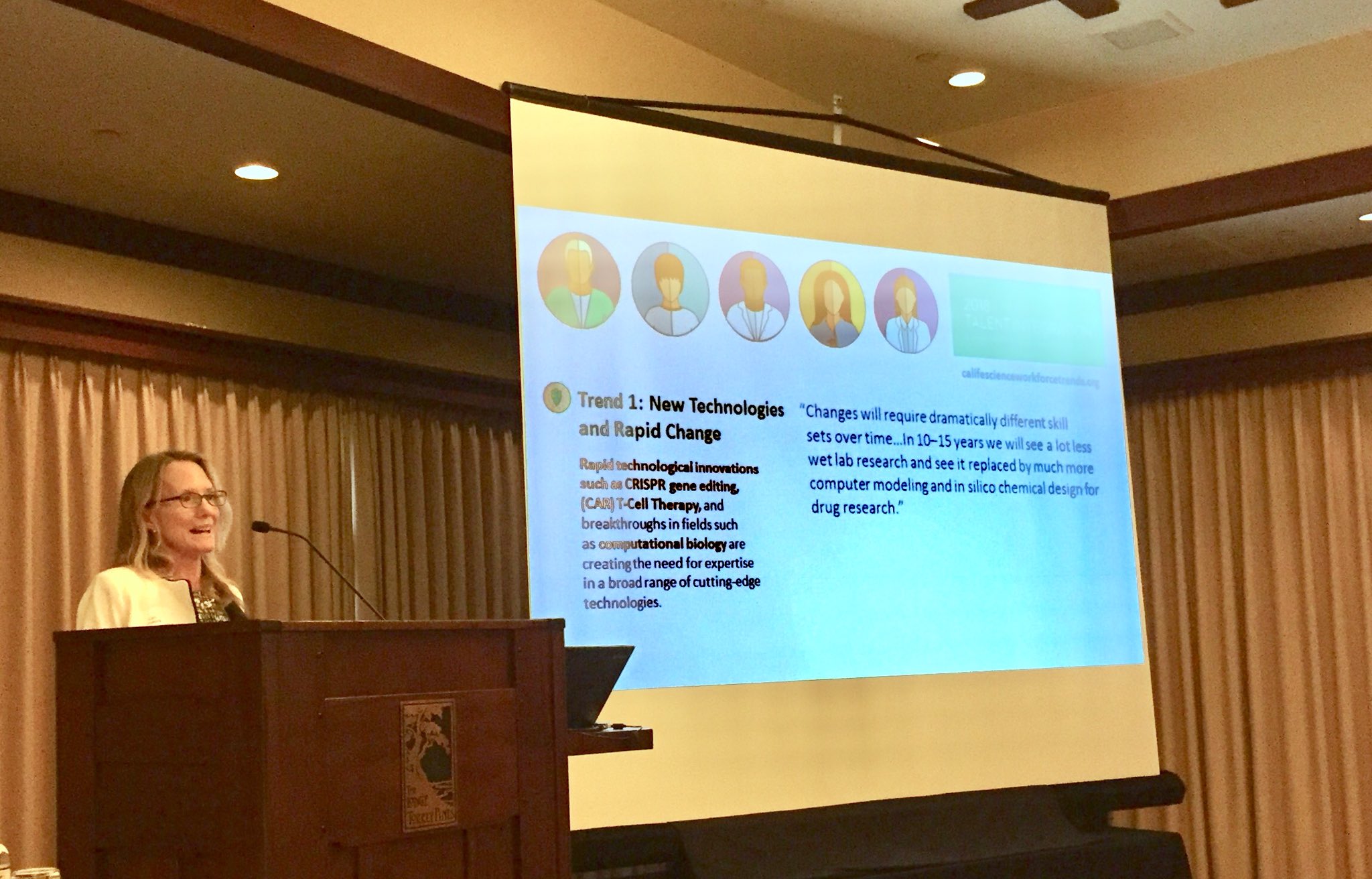 CLSI Presents Workforce Trends at HUB University in San Diego
Lori Lindburg, President & CEO of California Life Sciences Institute (CLSI) –along with a panel of senior talent executives from Illumina, Neurocrine, the Toft Group, and boutique recruiting firms – presented and discussed the Workforce
Trends report findings with more than 100 senior HR executives and academic representatives at a special HUB University: 2018 California Life Sciences Workforce Trends – What Employers Need to Know Moving Beyond the 2020 Workforce in San Diego on June 21.  Read more.
CLSI's Spring 2018 FAST Closing Showcase Celebrates Six Companies
Six companies graduated from CLSI's 2018 Spring FAST Closing Showcase, before an audience of nearly 150 attendees, on June 12, 2018 at UCSF's Byers Auditorium: Abalone Bio, Atropos Therapeutics, C. Light Technologies, Melio, SmarterABX, and Valley Fever Solutions. The program also included a FAST retrospective from Brian Feth, CEO of XCell Biosciences, who participated in the first FAST cohort in the Fall of 2013.  Our congratulations to these outstanding companies.  Read more. For more information about FAST, contact Julie Harness at jharness@califesciences.org.
Upcoming Events
Join Us for CLSA's 3rd Anniversary and Open House Celebrations | July 11 and July 17 | San Diego and South San Francisco
Don't miss out!  More than 500 life sciences professionals celebrated CLSA's anniversary last year at our offices in San Diego and South San Francisco, and this year we have even more to celebrate!  Mix and mingle with friends and colleagues as you learn more about how CLSA helps keep our sector at the top of California's booming economic engine.
San Diego – July 11: Join us at Johnson & Johnson Innovation | JLABS in San Diego as we fill the back patio with food, local wine and beer, music, raffle prizes and fun activities!  Want to join the party?  Register here.
South San Francisco – July 17: Join us as we take over the parking lot of our brand new office and Events Center at 701 Gateway in South San Francisco with food trucks, music, local beer and wine, raffle prizes, and tours of our new space!  We'd love to see you there – Register here.  
FDA Announces Innovation Challenge: Devices to Prevent and Treat Opioid Use Disorder
On May 30, 2018, the US Food and Drug Administration (FDA) launched an "Innovation Challenge" intended to spur the development of medical devices (including diagnostic tests and digital health technologies) to help combat the opioid crisis and achieve the goal of preventing and treating opioid use disorder. Specifically, the Challenge invites medical device innovators to submit proposals for medical devices, including digital health technologies and diagnostic tests, that could provide novel solutions to detecting, treating and preventing addiction, addressing diversion and treating pain." Learn more here.
It's Not Too Late to Win $20,000 for Your Science Program – Bay Area High Schools Apply Before July 31
Do you know a Bay Area high school that could benefit from a $20,000 science grant? CLSA, CLSI, Bay Area radio station KNBR are excited to the host the second annual Giants of Science competition in conjunction with the San Francisco Giants' baseball season to award three $20,000 science program grants to Bay Area high schools who submit an application and video explaining why they need the grant and what the school would do with it. Applications are open until July 31st – find the application and more information here.
MBA Information Session for Biotech Professionals in South San Francisco
Join San Francisco State University on July 9 to learn about their MBA program designed for highly motivated Biotech professionals seeking career advancement. Lunch will be provided. Learn more here.
Regards,
Sara Radcliffe
President & Chief Executive Officer
California Life Sciences Association
PS – Do you have newsworthy items to submit for consideration in our monthly CLSA Bulletin? Feel free to send those tips to Elizabeth Gibson, CLSA's Senior Director of Marketing and Programs (EGibson@califesciences.org).
Congress Passes Tax Reform Legislation, Protecting Critical Orphan, R&D Tax Credits
Dec. 20, 2017
On Dec. 20, Congress passed a sweeping overhaul of the tax code in the form of H.R. 1, the Tax Cuts and Jobs Act. While CLSA did not take a position on the overall legislation, we did work in close collaboration and coordination with BIO and our CLSA member companies to ensure that the Orphan Drug Tax Credit – a meaningful incentive for investment in rare disease therapy innovation – was preserved in the final bill passed by Congress.
The California Congressional Delegation overwhelmingly opposed H.R. 1 when it was brought to the full House and Senate for a vote. In the House, the measures passed by a vote of 224 to 201. All present California Democrats voted against the bill (38 voted no, and Rep. Grace Napolitano (D-El Monte) did not vote) with 2 Republicans, Reps. Darrell Issa (R-Vista) and Dana Rohrabacher (R-Huntington Beach), also voting against the bill. Overall, 12 House Republicans opposed the measure, including the aforementioned 2 from California. No House Democrats voted for the bill. In the Senate, H.R. 1 passed by a vote of 51 to 48. The vote fell along party lines, with all Republicans voting for the measure, and all Democrats voting against it. Both of California's senators – Sens. Dianne Feinstein (D) and Kamala Harris (D) – opposed the measure. (Sen. John McCain (R-Ariz.) did not vote.)
The bill now goes to the President's desk for signature, where it is expected to be signed into law before the end of the year.
By way of background, in November, both the House and Senate passed their respective versions of H.R. 1. Notably, the House-passed bill eliminated the Orphan Drug Tax Credit (ODTC). By contrast, the Senate-passed bill retained the ODTC, but at a significantly reduced rate of 27.5% in order to meet the revenue targets necessary to pass comprehensive tax reform. (Note: Section 45C of the Internal Revenue Code currently provides eligible drugmakers a tax credit of 50% of the qualified clinical testing expenses incurred in a taxable year with respect to drugs designated as "orphan drugs" by the FDA.)  Neither bill addressed the medical device tax, and both bills retained the R&D tax credit.
Over the past several months, CLSA has advocated vociferously for the Orphan Drug Tax Credit to be retained in the reformed tax code.  Most recently, we sent a letter to the only conference committee member from California, Rep. Devin Nunes (R-Visalia), urging that he support the protection of the ODTC in the Conference Report.  A copy of the letter we sent to him can be viewed here. CLSA also coordinated a California company sign-on letter to House Majority Leader Kevin McCarthy (R-Bakersfield) urging that the ODTC be included in the final tax reform package. Cosigned by 21 California companies invested in rare disease therapy innovation, a copy of that letter can be viewed here. We are pleased to see that our advocacy and engagement helped ensure the inclusion of a meaningful Orphan Drug Credit in the conference package. Click here to view the legislation.
It is worth noting that the R&D Tax Credit remains intact and was not altered by H.R. 1.  Another tax-related provision of interest, the medical device excise tax, was not addressed in H.R. 1. Click here for an update on our efforts to repeal the medical device tax.
Questions? Please contact Jenny Carey, CLSA's Vice President of Federal Government Relations & Alliance Development (jcarey@califesciences.org).
CLSA Urging Congress to Repeal Medical Device Tax by Year's End
Dec. 19, 2017
We are pleased to share that on Dec. 18, The Orange County Register published an op-ed from CLSA President & CEO Sara Radcliffe and CLSA Board Chairman Don Bobo (Corporate VP, Strategy & Corporate Development of Edwards Lifesciences), on the need for Congress to repeal the medical device tax. You can view the piece via the CLSA website, OC Register or on Twitter.
This month, Reps. Erik Paulsen (R-Minn.) and Jackie Walorski (R-Ind.) and House Ways & Means Committee Chairman Brady (R-Texas) introduced new legislation to provide a 5-year suspension of the medical device excise tax (H.R. 4617). The current suspension of the 2.3% medical device excise tax expires Dec. 31, 2017, and has not been addressed this year due to healthcare and tax reform packages taking all of the oxygen out of the room.
CLSA, along with our national medtech trade association partners AdvaMed and MDMA, remain committed to a full and permanent repeal of the medical device tax. This bill provides an immediate and long-term reprieve of the tax (which is otherwise set to reactivate in the new year), offering an important intermediary step toward full repeal. CLSA issued a statement on the release of H.R. 4617, supporting the bill and urging swift action before the end of the year. The full statement is available here.
We are hopeful the bill will be advanced prior to year's end, potentially as part of a government funding bill or Continuing Resolution. CLSA continues to urge our delegation to act on at least a long-term suspension (if not full repeal) before year's end. Our understanding is that House Leadership has indicated a commitment to address the tax in January, even though they are aware of the significant burden that will be placed on companies having to pay the tax in the interim (the tax will reactivate effective Jan. 1, 2018 and will be paid every two weeks by affected companies). We continue to press on our House delegation members for more urgent action, and at a minimum are asking members to urge leadership to make a public commitment that the tax will be addressed as soon as possible.
Click here to visit CLSA's Digital Action Center to urge your member of Congress to scrap the medical device tax on innovation. Questions? Please contact Adam Lotspike, CLSA's Associate Director of Federal Government Relations (alotspike@califesciences.org).
CLSA Hosts End of Year Reception in DC, Celebrating Achievements in Life Sciences
Dec. 16, 2017
On Dec. 6, CLSA hosted our annual End of Year Reception on Capitol Hill in Washington, DC. Over 150 guests attended the reception, including California Reps. Tony Cárdenas (D- San Fernando Valley), Jimmy Panetta (D-Monterey), Jackie Speier (D-South San Francisco), and David Valadao (R-Hanford), and staff from more than half of our California congressional delegation's offices.
CLSA would like to extend a heartfelt thank you to our sponsors for the generous support and making this event possible again this year:
Abbott, AbbVie, Amgen, Astellas, BioMarin, Celgene, Edwards Lifesciences, EMD Serono, Genentech, Gilead, Hogan Lovells, Horizon Pharma, McDermott+Consulting, Medtronic, Merck, Organogenesis, Retrophin, Shire, Vertex, VWR, W Strategies and BIO.
Click here to view more photos from the event.
Questions? Please contact Jenny Carey, CLSA's Vice President of Federal Government Relations and Alliance Development (jcarey@califesciences.org).
PhRMA Files Suit to Stop SB 17, New California Reporting Burdens Law
Dec. 15, 2017
On Dec. 8, the Pharmaceutical Research and Manufacturers of America (PhRMA) filed suit in the United States District Court for the Eastern District of California, seeking to have Senate Bill (SB) 17's manufacturer reporting requirements declared unconstitutional and void.
Under SB 17, manufacturers will be required to provide a 60-day advance notice of any price increase on a drug to all California public agency purchasers, health insurers, and pharmacy benefit managers (PBMs) if that drug's price has increased 16 percent or more cumulatively over the previous two calendar years, including the current year's increase.
California's Office of Statewide Health Planning and Development (OSHPD) recently released its implementation plan for Senate Bill 17 (Hernandez), and the law's advance notice provisions are set to take effect on January 1, 2018. Additional quarterly reporting by manufacturers to OSHPD would begin on January 1, 2019.
With the lawsuit, PhRMA seeks a permanent injunction from the Court to prevent the State from implementing or enforcing the law's requirements related to manufacturer reporting and notices.
PhRMA's complaint in the case states three central claims. First, SB 17 violates the Commerce Clause, which prohibits California from regulating out-of-state drug pricing. Second, it also violates the First Amendment by "compelling speech by manufacturers justifying their price changes." Finally, it violates the Fourteenth Amendment's due process clause on account of unconstitutionally vague language. A copy of the Complaint is available here.
Much of the attention has been paid to the alleged violations of the Commerce Clause, which generally has been interpreted by the United States Supreme Court to prohibit direct regulation of interstate commerce by a state. Thus, a central issue for the Court in the case going forward will be whether a 60-day advance notice of a change in a national list price is direct or incidental regulation of interstate commerce. PhRMA's complaint argues it is direct regulation because, among other things, the notice effectively "imposes a 60-day nationwide ban on price increases," which is analogous to other laws previously struck down by the Supreme Court.
CLSA and our industry partners will continue to engage the state regarding SB 17 implementation. As we continue to analyze the potential impacts of implementation on our industry, any members who would like further information on SB 17 or any other new California laws are encouraged to reach out to Oliver Rocroi, CLSA's Senior Director, State Government Relations (orocroi@califesciences.org) or Brett Johnson, CLSA's Senior Director, Policy & Regulatory Affairs (bjohnson@califesciences.org).
Los Angeles Take Back Legislation Rises Anew in 2018
Dec. 14, 2017
After a relatively quiet year in the County of Los Angeles regarding proposed take back legislation, activity has begun to percolate this month. In December, the expected leadership change from Supervisor Mark Ridley-Thomas to Supervisor Sheila Kuehl as President of the Board for 2018 took place which foreshadows a potentially more aggressive Board in putting the issue on the County's agenda.
The County Public Health Department released a report in mid-December evaluating the potential take back ordinance. The document gives an overview of the policy proposed, the status and implementation of other local ordinances over the last several years, comments from outside technical experts, concerns with the May 2017 California State Auditor's Report, and recommendations to move forward with the ordinance.
This report has been sent to each of the Supervisors. While it is currently not on the agenda for any upcoming Board hearings, we do expect newly installed President Sheila Kuehl to move quickly on the item. There is also expectation the County's EPR Working Group, which previously handled all items related to the legislation, will contact the stakeholders again soon as the County prepares its next steps forward in the new year.
CLSA has been at the forefront of this issue in Los Angeles ever since the County's early stakeholder meetings held in 2015. CLSA has continued its coalition work with national organizations to collectively organize around the ongoing legislative, political, educational, and other activities on take back in Los Angeles. The coalition meets weekly to share information, discuss strategy, and consider industry comments. Throughout 2017, while the legislation was not directly before the Board, the coalition has worked on opportunities for further educational outreach to the Members, the larger community, and through organizing take back events to show that the legislation is not necessary.
For more information on the proposed legislation, CLSA's on-the-ground initiatives in Los Angeles, the coalition's plans, or any questions, please contact Reese Isbell, CLSA's Director of Local Government and Community Relations (risbell@califesciences.org).
CLSA Hosts Congressional Briefing, Publishes Report to Raise Awareness of IBD
Dec. 13, 2017
During Crohn's and Colitis Awareness Week – recognized annually in the U.S. between Dec. 1-7, CLSA hosted a congressional briefing on Dec. 6, in collaboration with Takeda Pharmaceuticals USA, on "Enhancing Patient Access to Therapies for Inflammatory Bowel Disease (IBD)."
More than 3 million Americans suffer from Inflammatory Bowel Disease (IBD),an umbrella term for two distinct conditions – Crohn's disease and ulcerative colitis – both characterized by chronic inflammation of the gastrointestinal tract. IBD can significantly affect a patient's quality of life and may impose tremendous public health burdens, including economic costs. There is currently no cure for IBD, and patients require chronic, long-term treatment. Major scientific advances within the fields of genetics, immunology, and microbiology have led to a greater understanding of the underlying mechanisms involved in IBD and an increase in the number of treatment options available for IBD patients.
CLSA's informational briefing was an opportunity to for Members of Congress, their staff, and other stakeholders to hear from the patient's perspective (Kate Detwiler – IBD Patient), issues that clinicians face in treating patients (Dr. Michael Weinstein – Gastroenterologist), and how Congress can help to improve access to necessary treatments (Laura Wingate – Crohn's & Colitis Foundation, and Uthra Sundaram – Takeda Pharmaceuticals USA). The briefing also featured remarks from Reps. Raul Ruiz, MD (D-Palm Desert) and Brad Wenstrup, MD (R-Ohio), who serve as cosponsors of H.R. 2077, Restoring the Patients' Voice Act, and from Rep. Ryan Costello (R-Pennsylvania), co-chair of the Crohn's & Colitis Caucus.
To learn more about IBD and how Congress can help ensure patients receive access to necessary therapies, please check out our latest educational brochure, "Understanding IBD." Questions? Please contact Adam Lotspike, CLSA's Associate Director of Federal Government Relations (alotspike@califesciences.org).
Better Benefits for Lower Rates: Can You Win the Talent War with the CLSA Benefits Trust?
The war for talent isn't slowing down.
The life sciences sector continues to be one of California's leading employers, creating jobs for over 360,000 people.  According to the California Life Sciences Institute's 2018 Workforce Trends Report, 88% of life sciences companies anticipate expanding their employee headcount across major functional areas during the next 12 months – particularly in R&D, Quality, and Regulatory Affairs and Compliance.  Life sciences employers are now competing with the tech sector for talent, and unemployment rates are dropping by the day.  It's a volatile and highly competitive market – so what are you doing to even the odds?
Be a part of something bigger.
CLSA knows that being able to attract and retain high-quality talent in a competitive market is critical to the innovation, growth and success of your organization.  Offering a truly competitive benefits package while improving the bottom line can be a game changer.
What if you could bring your executive team:
Comprehensive, improved options for medical, dental, voluntary, vision, life and disability plans customized to your employees' needs;
Lower costs – up to $1900 per employee; and
Dedicated support and a benefits platform that reduces your team's administrative burden?
Explore what the Trust can do for you.
The CLSA Benefits Advantage Trust provides better benefits at a lower cost.  It has what your employees – current and future – want, and it does the work for you.  CLSA Membership gives your organization access to large-group purchasing power, preferential rates, and access to options that most small or mid-size companies never see.  And the ease of administration gives your team time to focus on other strategic talent initiatives.
For more information, visit www.CLSATrust.com or contact Ashley.Ball@hubinternational.com for a quote.
Questions? Contact Sam@califesciences.org.
MabPlex USA, Inc. Announces the Opening of its San Diego, CA based Process Development Center of Excellence
MabPlex USA, Inc. Announces the Opening of its San Diego, CA based Process Development Center of Excellence
(San Diego, California; May 30th, 2018) –  MabPlex USA, a subsidiary of MabPlex International, LTD, is excited to announce the establishment of our new state of the art Process Development Center of Excellence located in La Jolla, CA with scale up capacity to 200L. Our new team of scientists offer world class expertise supporting Cell Line development, Upstream and Downstream Process Development, Antibody Drug Conjugate (ADC) Development, Analytical Development and Formulation Development  from the bench to commercialization.  The combined expertise of MabPlex's expansive GMP manufacturing facility in Yantai, China with the new San Diego team will ease the transition from bench to clinic for all of MabPlex's global clients.  This expansion will be led by the new CEO of MabPlex USA, Dr. Marie Zhu, who was most recently the former Head of Process Sciences and Manufacturing with Agensys/Astellas.
"We are excited to have assembled a world class team with firsthand experience of successfully developing biologics and ADCs from research to commercialization.  Their capabilities will be an asset to our clients as they develop and advance world class therapeutics for patients globally," said Jianmin Fang, PhD, CEO of MabPlex International Ltd.
About MabPlex
MabPlex, founded in 2013, specializes in providing complete biologics development and manufacturing solutions to customers globally with our services from cell line development and process development to GMP manufacturing. Our technical expertise allows us to provide effective and high-quality solutions for monoclonal antibody and ADC therapeutics to the biopharmaceutical industry. With this, MabPlex delivers our commitment to our partners through our quality manufacturing, meeting their expectations.
Contact:
MabPlex USA, Inc.
Bethanne Deuel, MBA
Director of Marketing and Communications
1-800-925-3608
bdeuel@us.mabplex.com
www.mabplex.com
Bellwyck and Faller Establish Joint Venture in Germany
Toronto (Canada) / Waldkirch (Germany).
Waldkirch, Germany based pharmaceutical packaging specialist August Faller GmbH & Co. KG and Toronto, Canada based Bellwyck Pharma Services have agreed to form a joint venture. Bellwyck and Faller each hold 50 percent of the shares in the new
Bellwyck Faller Pharmaceutical Services GmbH, located in Grossbeeren, Brandenburg, Germany. All staff employed at the PharmaServiceCenter Packaging Services location in Grossbeeren will be kept on by the new company. Beginning in early 2018, in addition to the existing contract packaging services, the joint
venture will offer packaging and logistics services for clinical trials.
Headquartered in Toronto, Canada, Bellwyck Pharma Services, a division of Bellwyck Packaging Inc., is an established provider of Clinical and Commercial Packaging Solutions in Canada and the US, and is now expanding its offering for the European and global
market in collaboration with Faller.
The Bellwyck-Faller joint venture's portfolio for clinical trial management includes storage and distribution capabilities in both ambient and refrigerated temperatures, the management of returns and reconciliation, as well as expiry extension labelling.
With support from Bellwyck Pharma Services in North America, Bellwyck Faller Pharmaceutical Services GmbH can also offer full project management and logistics consultation for clinical trials in the North American market, from pure material distribution to dynamic randomized distribution via IVRS systems; the handling of studies in single or multi-language versions, country-specific packaging including use information/booklets through to consistent temperature control of the supply chain of the study material. The service offering in Bellwyck-Faller's Grossbeeren site will expand
to these offerings for the European and global market as well. The good manufacturing practices laid down for the pharmaceutical industry are ensured for the entire supply chain for contract packaging and clinical trial logistics.
The managing director of Bellwyck Faller Pharmaceutical Services GmbH, Juergen Hendricks, states: "With our new partner company, we want to sustainably establish ourselves among our customers in Europe as a partner with tailored solutions for everything related to the logistics and packaging services which are necessary to optimally organize clinical trials."
Jeff Sziklai, CEO of Bellwyck Packaging Inc., is excited by the opportunities this joint venture presents: "With the experience and outstanding know-how of our German and Canadian staff, we can now further support the global study requirements of our customers worldwide."
Dr. Daniel Keesman, CEO of August Faller GmbH & Co. KG, emphasizes: "At the Grossbeeren location, our customers can now also receive logistics and packaging services for clinical trials specifically tailored to their requirements. Our expertise in packaging logistics is optimally complemented by the competence and experience of our
Canadian partner."
About the August Faller Group
The August Faller Group is the leading manufacturer and solution provider for pharmaceutical secondary packaging, such as folding cartons, leaflets, labels and combination products. For over 25
years, the August Faller Group has continually expanded its expertise in the pharmaceutical market. The company has focused its innovations and developments on customer-specific solutions and patient-friendly products.
It is one of first manufacturers to offer customized product engineering as its own service. Faller offers solutions such as logistics services, supply chain concepts, and packaging services related to pharma and health care packaging.
The group is committed to sustainable and ecological operation and August Faller KG was FSC®-certified in 2011. The company was established in 1882. Today, a total of around 1,150 staff are employed at the headquarters in Waldkirch, additional German locations in Binzen, Grossbeeren, and Schopfheim, as well as August Faller A/S in Hvidovre, Denmark, August Faller Sp. z o.o. in Łódź,
Poland and the subsidiary August Faller Artwork Solutions GmbH in Waldkirch.
About Bellwyck Packaging Inc.
Bellwyck Packaging Solutions is a leading healthcare and premium packaging supplier offering a single source solution for customers' packaging and printed component requirements. The company
is a full service contract packager offering primary, secondary and clinical trial packaging and logistics services. The printed components divisions include cGMP folding carton and label facilities that provide all of the required printed materials for packaging projects. With more than two decades of experience, the company's six North American manufacturing sites, and over 450
employees, provide clients with strict cGMP and ISO compliance, and ongoing R&D targeted towards innovative solutions.
To download in PDF, click here.
Question? Please contact Jacquelyn Fraser, Business Development Manager at jfraser@bellwyck.com.
FAST, Fellow and CARB-X Updates February 2018
FAST & Fellows Round-Up
CARB-X Updates
Powered by CARB-X company, Entasis Therapeutics ranked highest among biotech companies in their contributions toward stewardship. Read More
Powered by CARB-X company, BugWorks' is using advanced mathematical models and algorithms to design appropriate chemical compounds to attack resistant bacteria. Read More about their approach and other 'Big Data' techniques for antibiotic discovery.
Powered By CARB-X company, Debiopharm Group announced an investment in antibiotic development with acquisition of ABAC Therapeutics. Read More
Female Students and Women Professionals Network to Inspire Science Careers
Twenty female students from San Francisco high schools and community college networked with female industry professionals at an event coordinated by CLSI, Young Women in Bio, San Francisco Unified School District (SFUSD) and City College of San Francisco (CCSF). The Speed Networking event, held at Wallenberg High School in San Francisco, allowed female students the opportunity to directly interact with women professionals from BioMarin, Genentech, Nektar, UCSF and more.  In addition to being exposed to a diverse set of career roles and career stories, the students got to practice presenting their own experience and interests, and to hone the valuable skill of networking.
Kayla Ko, a junior at Wallenberg high school stated that she valued "getting to know more about the many different fields and pathways that are available." Her peer, Meron Andebrhan, added "It was so inspiring to see scientists who look like us. I feel like we are changing the world one by one." Stephany Reeves, a Clinical Manufacturing Associate at BioMarin, when asked why she volunteered for the event, stated: "I can relate to girls who are not sure of what they want to do, and I know how effective it can be to meet and talk to someone like me.  I was in the same position, and these opportunities to meet people from industry were so helpful to me."
Kioma Palkhivata, a Data Analyst at Genentech added, "I was really impressed at how much thought these young women were giving to what they want to do.  I let them know that it's ok if that changes, just be comfortable with who you are and about asking for help to get where you want to go."
Young Women In Bio (YWIB), part of Women In Bio, is an inspiring program that organizes science events for young women, introducing them to careers in science, technology, engineering, and math.
Institute Hosts First CLSI Women Life Sciences Executives Dinner
The California Life Sciences Institute hosted its first Women Life Sciences Executives Dinner on Thursday February 17 at The Workshop in San Francisco with renown Chef Nikole Krasinski of State Bird Provisions. Twenty women executives from established life science companies, FAST startups and investment firms participated in the dinner, which included a lively and substantive discussion on the topic of "Overcoming Unconscious Bias." Gunderson Dettmer was the evening's generous sponsor.
The highly-acclaimed dinners are designed to foster networking and peer-to-peer exchanges on key industry issues for women executives, and to create valuable connections and champions among women leaders.
If you are interested in hosting a future CLSI Women Executives Dinner, please contact Lori Lindburg at lori@califesciences.org.
Introducing the Spring 2018 FAST Companies
Six life science startups, vetted and selected by a distinguished review panel, have been selected for CLSI's Spring 2018 Fellows All-Star Team (FAST) Advisory Program. The Spring 2018 FAST companies are: Abalone Bio, developing functional antibody therapeutics that block or activate membrane protein using proprietary Functional Antibody Selection Technology platform; Antibiotic Adjuvant, developing AI-empowered decision support delivered at the point of prescription to reduce and prevent antibiotic resistance; Atropos Therapeutics, developing an optimized combination therapy for cancer and novel therapeutics for aging based on cellular senescence; C. Light Technologies, developing an ultra-precision retinal eye-tracking device to empower doctors to detect neurodeficits; Melio, developing a rapid broad-based platform for pathogen profiling for sepsis in newborns; Valley Fever Solutions, developing a first in class new antifungal to treat valley fever.
 Each company founder will be paired with a team of 10 to 12 advisors who will meet with them over 12 weeks for one-hour advisory sessions. These meetings culminate in a final FAST Showcase in June to a broad audience of industry professionals, entrepreneurs and potential investors.
Halfway through its fifth year, FAST was developed to help some of the most innovative young life science companies FAST-track their way to funding and success. FAST's 50 company graduates have received over 5500 advisory hours valued at over $1,200,000, have collectively raised $317 million and created 240 new jobs since their participation in FAST.
The FAST program draws on a high-level team of serial entrepreneurs, researchers, investors and business advisors with expertise in clinical development, regulatory, reimbursement, relevant technical R&D, finance, marketing and business development. The teams provide FAST entrepreneurs with intensive team review and coaching to perfect their business model and develop a compelling commercialization strategy.