New Study: Patient cost sharing rising as plans push more costs to patients through deductibles, coinsurance
From our friends at PhRMA
By Karyn Schwartz
April 13, 2016
New data show changes in how insurers structure health insurance benefits have made out-of-pocket costs harder for patients to budget for or predict. A Kaiser Family Foundation analysis released this week finds patients are paying more out-of-pocket through deductibles and coinsurance, while copayments are going down.
Shifting patient cost sharing to deductibles and coinsurance – along with rising overall out-of-pocket costs – further adds to the burden on patients. Deductibles require patients to pay the full cost of many types of health care before insurance contributes to the costs. Even for those without the benefit of a health savings account, workers often faced deductibles of more than $1,000 a month in 2015 and average deductibles were more than twice as high as they were in 2006 for those in health plans with a deductible.[1]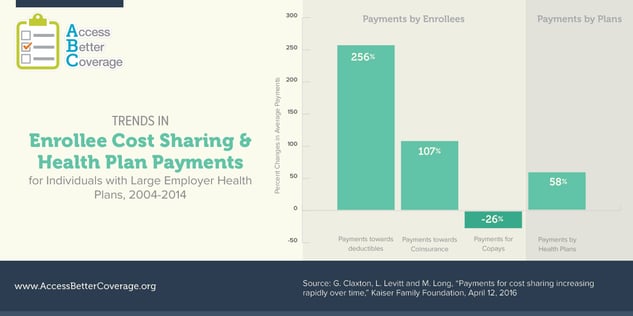 Read the full post at PhRMA.