President's Corner – CLSA's 2018 Giants of Science Grant Competition, Announcing the 15th Annual Pantheon DiNA™ Awards, Keynote at BioProcess West, Recognizing Rare Disease in Sacramento, CLSI Discusses FAST Program Diversity, Upcoming Events
By: Sara Radcliffe
CLSA President & CEO
March 28, 2018 
CLSA's Giants of Science Is Back!
The California Life Sciences Association, the California Life Sciences Institute and KNBR are bringing back the competition that supports Bay Area STEM education and the next generation of life sciences leaders.  The Giants of Science grant competition runs from March through September, awarding multiple $20,000 science grants to high schools in the Bay Area.  Are you interested in becoming a sponsor or a judge? Do you know of a high school that should apply?  Contact us here for more information.
CLSA Announces the 15th Annual Pantheon DiNA™ Awards on Nov. 30 – Sponsorships Available
For the last 15 years, the CLSA Pantheon DiNA™ Awards have brought together the legends and luminaries of California's life sciences sector to celebrate our advances and accomplishments. We invite you to join us on Friday, November 30th at the Westin St. Francis in San Francisco as we celebrate and recognize the impact that California's therapeutic, diagnostic, medical device, and industrial biotechnology companies are making around the globe. Find sponsorship and table information here.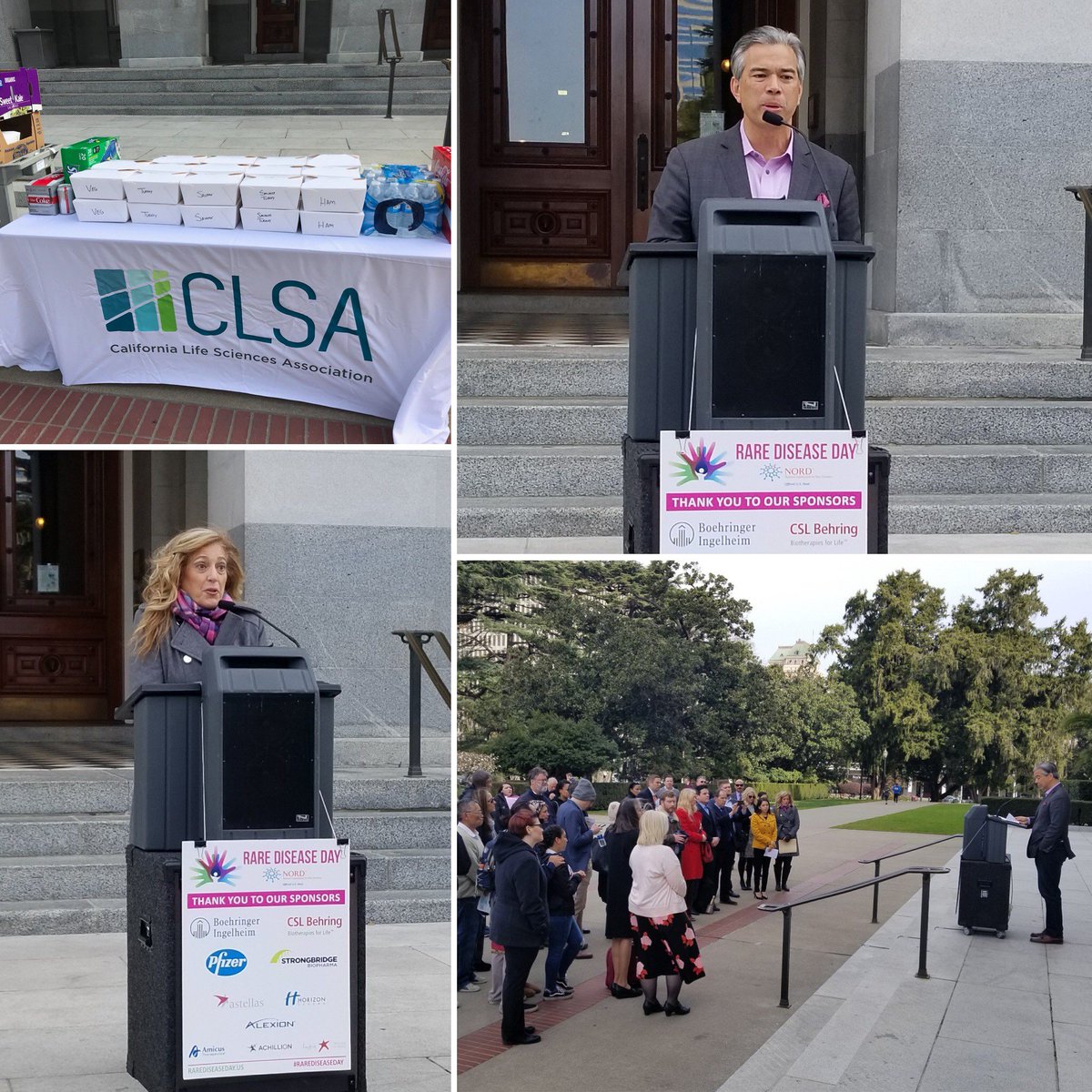 CLSA Raises Awareness of Rare Diseases in Sacramento
Rare Disease Caucus Chairman Rob Bonta and Assemblymember Marie Waldron joined CLSA on the steps of the Capitol on Feb. 28 to recognize Rare Disease Day.  With more than 7000 rare diseases affecting 3.9 million in California, Rare Disease Day plays a critical role in promoting awareness of rare disease issues, ensuring patients have a voice in shaping policy, educating legislators and staff about rare disease policy issues, and providing opportunity to engage with the rare disease community (patients, academia, hospitals, life sciences industry, government agencies). Learn more here.
CLSA Delivers Keynote at BioProcess West 2018
I had the pleasure of delivering a keynote address at BioProcess West in San Francisco on Mar. 22 on the trends and influences driving the statewide life sciences sector in California.  Learn more here.

California Life Sciences Institute Discusses FAST Gender Diversity
In a March 14 panel entitled Advancing Diversity in Healthcare Management organized by the group How Women Lead, CLSI President & CEO, Lori Lindburg, discussed the remarkable numbers of female executives – approximately 50% – within the FAST program, and some of the possible reasons why we are seeing this diversion from the industry norm.  Learn more here.
Upcoming Events
Join the California Pavilion at BIO 2018 | June 4-7 | Boston, MA
Get the most out of your BIO 2018 attendance this year! Take advantage of the California Pavilion's advantageous placement and affordable rates to maximize your visibility among companies doing business with and interested in California life sciences. Reserve your spot by the April 9 deadline. Rates and information here.
Housing & Infrastructure Roundtable | April 4 | South San Francisco, CA
Join CLSA for a roundtable discussion and lunch on April 4 to discuss housing and infrastructure needs in South San Francisco and the Bay Area. This is an opportunity for stakeholders interested in ensuring the long-term success of the thriving biotech cluster East of 101 to gather for an open dialogue about a shared vision and common commitment.  Register here.
CLSA Bio in the Brewery | April 18 | San Diego, CA
Don't wait too long to join CLSA and VWR to mix and mingle with the best of San Diego's life sciences community.  Enjoy the beverages, the food trucks and the networking at 32 North on April 18.  RSVP here – don't miss out!
Big Data Meets Big Biology | April 26 | San Diego, CA
The confluence of "big biology" with "big data" is opening huge opportunities for innovative tech startups and established players alike—in areas from next-generation sequencing to data acquisition, storage, distribution, analysis, and more.  CLSA partners with Xconomy to bring you the Big Data Meets Big Biology Forum, a half-day event that highlights the prospects and challenges facing technology innovators as big data and big biology converge.  Register here.
Regards,
Sara Radcliffe
President & Chief Executive Officer
California Life Sciences Association
PS – Do you have newsworthy items to submit for consideration in our monthly CLSA Bulletin? Feel free to send those tips to Elizabeth Gibson, CLSA's Senior Director of Marketing and Programs (EGibson@califesciences.org).