President's Corner – Primary Election Recap, CLSA Elects New Board Officers & Board Member, CLSA Connects with Mayor-elect London Breed to Celebrate PRIDE in San Francisco, CLSA Makes Strong Showing at BIO 2018, CLSI Releases 2018 Workforce Trends Report, 6 Graduating Companies Celebrated at FAST Closing Celebration, Upcoming Events
By: Sara Radcliffe
CLSA President & CEO
June 27, 2018 
June Primary Election Recap
Behind much of CLSA's advocacy success in Washington D.C., Sacramento, and locally, is the time and attention we devote to educating policymakers on the fundamentals of our state's biomedical sector. This groundwork establishes CLSA as a trusted voice to more effectively argue the pros and cons of specific legislative and policy proposals. CLSA is keeping a careful eye on the midterm elections so that we can be best positioned to continue our decades-long legacy of partnership and engagement with elected officials to ensure the best outcomes for our state's vibrant life sciences ecosystem.  Following the June 6th California Primary Election, our Government Relations Team prepared detailed information on specific outcomes that stand to potentially positively or negatively impact the life sciences sector – these detailed summaries are available here for your reference and convenience: Federal election update, State election update and local election update.
CLSA Elects New Board Chair, Vice Chair and Adds New Board Member

I am pleased to announce CLSA's new Board Chair and the addition of a new member of our Board of Directors. William J. Newell, Chief Executive Officer of Sutro Biopharma, Inc., transitioned from Vice Chair to Chair of the Board.
Jared L. Watkin, Senior Vice President, Diabetes Care, Abbott, has joined the Board of Directors. In addition, Melinda Richter, Global Head, Johnson & Johnson Innovation, JLABS, formerly CLSA's Treasurer, was appointed as the new Vice Chair of the organization. The leadership and experience of these members will further our collaboration with officials in Sacramento and Congress to enhance the strength and growth of the state's life sciences economy. Click here to learn more.
CLSA Makes a Strong Showing at BIO 2018 in Boston
The 25th Anniversary of the BIO's International Convention took place in Boston, MA from June 4-7, 2018.  In addition to the Convention breaking the Guinness Book of World's Records for the most partnering meetings (350,000+), the meeting was an exciting opportunity for BioTech companies, entrepreneurs, investors and development organizations to come together and learn about the breakthroughs in medical innovation.  
CLSA and its partners in California hosted the California Pavilion to showcase California's economic powerhouse – the life science cluster across the Golden State.  CLSA would like to thank Alden, Accelera Canada, Lab Fellows, South San Francisco, Larta Institute, HUB, CLSI and UC San Diego for sponsoring the event.
CLSA Connects with Mayor-elect London Breed to Celebrate PRIDE in San Francisco
CLSA gathered at a Pride celebration on June 24th in downtown San Francisco as CLSA sponsored the Alice B. Toklas Pride Breakfast where U.S. Senator Kamala Harris gave a keynote address.
CLSA connected with San Francisco Mayor-elect London Breed, candidates for the supervisorial district representing Mission Bay, and many other local and state elected officials who were in attendance. Our organization is strongly supportive of efforts to promote diversity and inclusion in the life sciences sector and across California communities and was proud to participate in this important event.
CLSI Releases 2018 California Workforce Trends Report
Our affiliate, the California Life Sciences Institute (CLSI) released the 2018 Talent Integration: Workforce Trends in the California Life Sciences Industry report at the BIO International Convention in Boston earlier this month. This biennial report, which CLSI produces with the Biocom Institute, highlights the most pressing talent needs of California's life sciences industry and is a valuable resource for legislators, academic institutions, and others who want to ensure that California's talent pipeline for the industry remains strong.  Download the report here or learn more here.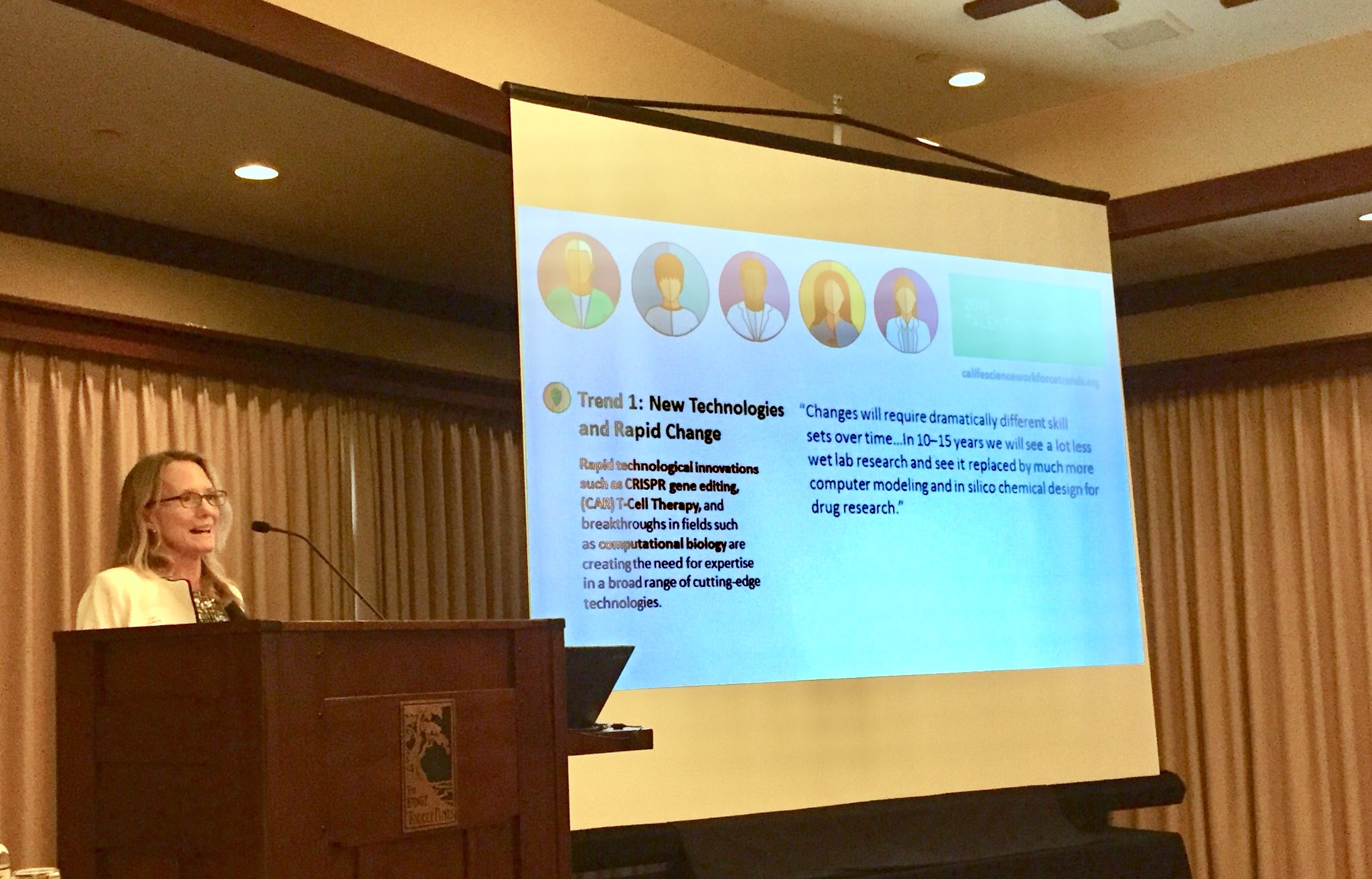 CLSI Presents Workforce Trends at HUB University in San Diego
Lori Lindburg, President & CEO of California Life Sciences Institute (CLSI) –along with a panel of senior talent executives from Illumina, Neurocrine, the Toft Group, and boutique recruiting firms – presented and discussed the Workforce
Trends report findings with more than 100 senior HR executives and academic representatives at a special HUB University: 2018 California Life Sciences Workforce Trends – What Employers Need to Know Moving Beyond the 2020 Workforce in San Diego on June 21.  Read more.
CLSI's Spring 2018 FAST Closing Showcase Celebrates Six Companies
Six companies graduated from CLSI's 2018 Spring FAST Closing Showcase, before an audience of nearly 150 attendees, on June 12, 2018 at UCSF's Byers Auditorium: Abalone Bio, Atropos Therapeutics, C. Light Technologies, Melio, SmarterABX, and Valley Fever Solutions. The program also included a FAST retrospective from Brian Feth, CEO of XCell Biosciences, who participated in the first FAST cohort in the Fall of 2013.  Our congratulations to these outstanding companies.  Read more. For more information about FAST, contact Julie Harness at jharness@califesciences.org.
Upcoming Events
Join Us for CLSA's 3rd Anniversary and Open House Celebrations | July 11 and July 17 | San Diego and South San Francisco
Don't miss out!  More than 500 life sciences professionals celebrated CLSA's anniversary last year at our offices in San Diego and South San Francisco, and this year we have even more to celebrate!  Mix and mingle with friends and colleagues as you learn more about how CLSA helps keep our sector at the top of California's booming economic engine.
San Diego – July 11: Join us at Johnson & Johnson Innovation | JLABS in San Diego as we fill the back patio with food, local wine and beer, music, raffle prizes and fun activities!  Want to join the party?  Register here.
South San Francisco – July 17: Join us as we take over the parking lot of our brand new office and Events Center at 701 Gateway in South San Francisco with food trucks, music, local beer and wine, raffle prizes, and tours of our new space!  We'd love to see you there – Register here.  
FDA Announces Innovation Challenge: Devices to Prevent and Treat Opioid Use Disorder
On May 30, 2018, the US Food and Drug Administration (FDA) launched an "Innovation Challenge" intended to spur the development of medical devices (including diagnostic tests and digital health technologies) to help combat the opioid crisis and achieve the goal of preventing and treating opioid use disorder. Specifically, the Challenge invites medical device innovators to submit proposals for medical devices, including digital health technologies and diagnostic tests, that could provide novel solutions to detecting, treating and preventing addiction, addressing diversion and treating pain." Learn more here.
It's Not Too Late to Win $20,000 for Your Science Program – Bay Area High Schools Apply Before July 31
Do you know a Bay Area high school that could benefit from a $20,000 science grant? CLSA, CLSI, Bay Area radio station KNBR are excited to the host the second annual Giants of Science competition in conjunction with the San Francisco Giants' baseball season to award three $20,000 science program grants to Bay Area high schools who submit an application and video explaining why they need the grant and what the school would do with it. Applications are open until July 31st – find the application and more information here.
MBA Information Session for Biotech Professionals in South San Francisco
Join San Francisco State University on July 9 to learn about their MBA program designed for highly motivated Biotech professionals seeking career advancement. Lunch will be provided. Learn more here.
Regards,
Sara Radcliffe
President & Chief Executive Officer
California Life Sciences Association
PS – Do you have newsworthy items to submit for consideration in our monthly CLSA Bulletin? Feel free to send those tips to Elizabeth Gibson, CLSA's Senior Director of Marketing and Programs (EGibson@califesciences.org).