Rekha Murthy, MD, Vice President, Medical Affairs, Associate Chief Medical Officer, Professor of Medicine, Cedars Sinai Medical Center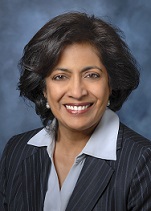 Rekha Murthy, MD, is Vice President for Medical Affairs and Associate Chief Medical Officer at Cedars-Sinai Medical Center. She served until recently as Medical Director of the Hospital Epidemiology Department at Cedars-Sinai. Dr. Murthy is Professor of Medicine in the Division of Infectious Diseases at Cedars-Sinai and Professor of Clinical Medicine at David Geffen UCLA School of Medicine.
Dr. Murthy's clinical and research interests include the prevention of healthcare acquired infections (HAI), epidemiology of emerging communicable diseases and multidrug resistant organisms (MDRO), antimicrobial management and device associated infections.  She has co-authored several book chapters and numerous abstracts and articles on these and other subjects for peer reviewed journals and is frequently sought as a speaker on these topics
At Cedars-Sinai, Dr. Murthy leads hospital-wide efforts to prevent HAI, develop strategies to address new relevant public health regulations and to address the health system response to emerging communicable disease threats such as Ebola, novel H1N1, bioterrorism and MDRO. She is a fellow of the Infectious Diseases Society of America, the Society for Healthcare Epidemiology of America, the Royal College of Physicians and Surgeons of Canada, and the American College of Physicians.
Dr. Murthy is a member of numerous local, state and national professional associations and scholarly societies and has served in leadership roles in several. She is currently Chairperson of the Guidelines Committee of the Society for Healthcare Epidemiology of America and immediate past chair of the California Hospital Association's Statewide Hospital Quality Institute (HQI) Hospital Acquired Infection (HAI) Prevention Workgroup.
Dr. Murthy earned her medical degree at Queen's University School of Medicine in Kingston, Ontario, Canada. She completed internship and residency programs in internal medicine at Queen's University School of Medicine and at Baylor College of Medicine in Houston, Texas.  She then completed clinical and research fellowships in infectious diseases at Brown University in Providence, Rhode Island and the University of California, Los Angeles-San Fernando Valley Program. She is board certified in Internal Medicine and Infectious Diseases.